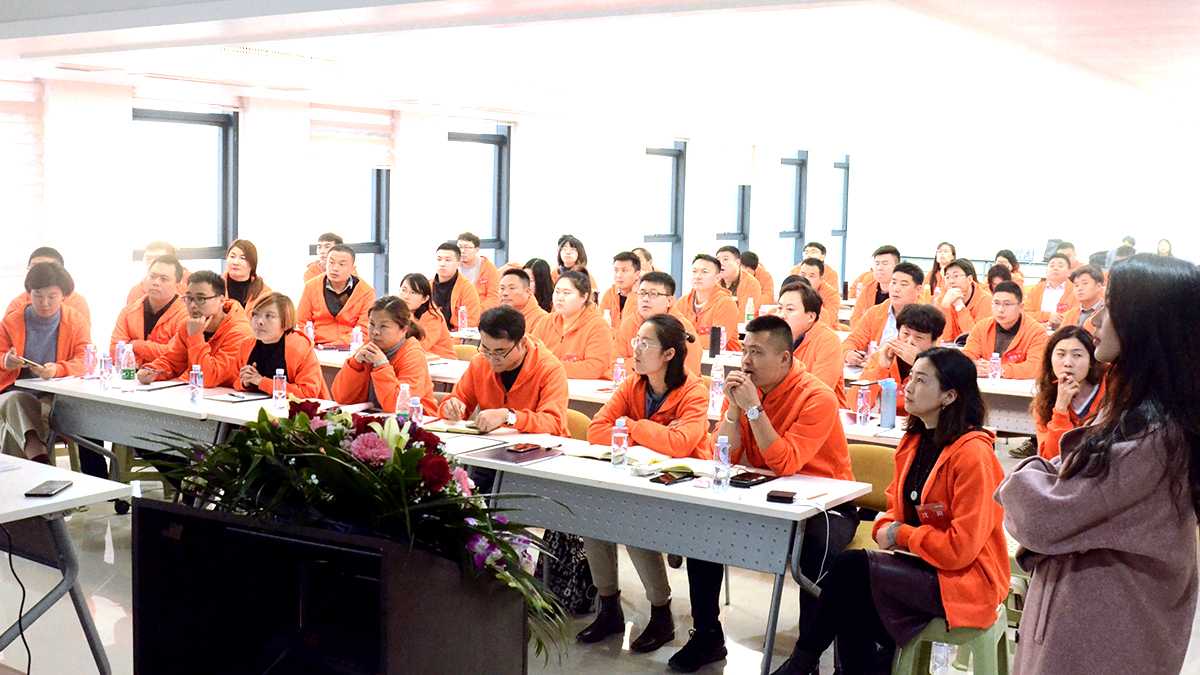 Allwell's December is the busiest month of each year. Allwell group is occupied for the machine production arrangement before the China Spring Festival , local or overseas installment and operator training service in customer factory, planning the 2019 new product release meeting which would held together with Allwell group anniversary in 14th, January, 2019.
We prepare team programs for the company anniversary, keep fighting to achieve the 2018 target sales. This year, we would reach the total target of 300 million RMB for all market, include domestic market and international market. Even though life is busy, we also do more for this world. Hope every customers and enterprisers would been better.
December 18th, Alibaba regional manager have a public rally about the exchanges of foreign trade business at Allwell Group. More than 100 enterprisers from Shangdong province came to participate in this activity.

Allwell Chairman Mr. David Ouyang had a experience share about the Allwell Development and how to keep extending fasten under this common imitation environment. It is a common phenomenon that the products face the homogenization. During the product maturity period, it would be more competitive. It also increase the buyers' time cost. In particular, we usually meet the customer who said "It is total same machine, why your machine price is double or too higher than other suppliers??!!" in the first touch of international business. Because they can't distinguish what's the different with appearance and machine PDF file. After we more deeply communing and machine running, they surely realized the big difference at stability and reliability. A good machine with skillful operation would keep making value stably for owner.
Product life cycle theory told us that every product would through introduction, growth, maturity and decline. Any product would be replaced anytime by New Product with subversive capacity. Like the MP3, Noika phone, camera film and so on.
There would have two ways to resolve the homogenization: one is to create the subversive product. let the industry change because of us. We keep innovation according to the non woven bag user's necessary and hold two or more new products on our R&D center. We prepared ahead and get the first profile after new product releasing when other supplier still copy our present product. So that whatever your opponent doing, we can keep ahead and more customers would've willing to follow Allwell Brand Nonwoven Bag Making Machine. Another way is to reduce the cost in management, machine structure or material purchase. So that they can keep enough profile for their company. Of course, it is a big question that we also can't understand. How to reduce the material cost to keep the same quality and twice lower price machine as our machine.
In the meeting, David Ouyang also introduced the plan of Allwell 5 years plan and Allwell development direction. He best wishes the present entrepreneurs can find the right way to improve their business unfaltering.

Second Step, Allwell international department director Ms. Emy Tung shared with them the Allwell international business road. "It is real a different working mode compare with 3 years ago" , Ms. Emy said. "When we build OUNUO MACHINE team at 2010, we doing trade business by every salesman in charge of the platform building, customer development, negotiation, contract tracking, delivering, engineer arranging, after service handling. 2016, we started the team work mode and defines everyone's responsibilities."
Now, Foreign market divide into four area with several sales managers in charge of each market. We have a professional seo team with the website building capacity, one merchandiser to track all international orders, one vouching clerk doing the documentary work with independent working ability and experience.
We have a strong after sale team to serve our large customer group. All the change of Allwell is according to our core value - serving customer.